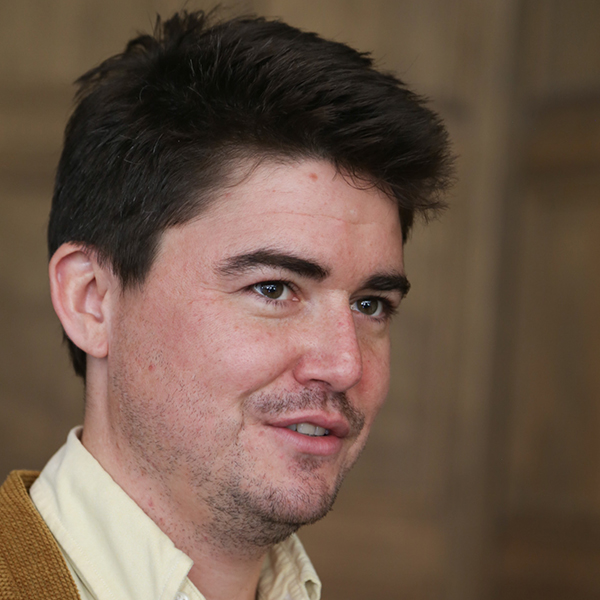 D.F.W. "Will" Buckingham is an American writer living in Berlin. He has worked in the entertainment industries of the US, Asia, and Europe for over 10 years.
 
Will graduated from NYU-Tisch School of the Arts Asia in Singapore with an MFA in Dramatic Writing. He worked as a Hollywood assistant and script analyst before moving to Berlin in 2019. He has written TV movies that have aired to millions of viewers worldwide on the Lifetime Channel, Hallmark, Amazon Prime, SkyTV, TF1, Antena3, and more. He also worked as a lead writer for the immersive fiction app Galatea, penned original novellas for ebook company Scribd, and wrote podcasts for Spotify.
Will is now focused on developing original TV and film projects for the European market. In 2022 he graduated from Serial Eyes, Europe's premier postgraduate training program for television writers. Following Serial Eyes, he was invited to join the Dark Ways Development Camp, developing new series concepts with Jantje Friese of DARK and 1899. He was also a participant in the 2023 CANNESERIES Talent Unlimited Residency.
Will has worked in nearly every genre but prefers any variation of romance, comedy, romantic-comedy… you get the idea! His screenwriting idols are Darren Star and Larry David.
Will writes and develops projects in English.
Will Buckingham: Screenwriter
Contact:  +49 (0) 160 5955 631
marinus.viktor@papercuts-agency.com
Will Buckingham: Screenwriter
Contact:  +49 (0) 160 5955 631
marinus.viktor@papercuts-agency.com
In Development (Selection)
Trista Tolstoy
Format: 8×30 min
Genre: Romantic Comedy
Production: Network Movie GmbH
Triplikat
Format: Feature Film
Genre: Romantic Comedy
Production: TBA 
Sugarcreek Amish Mysteries
Format: 8×50 min
Genre: Mystery, Romance
Production: American Cinema International
Woof From Home
Format: Web Series, 6×1 min
Genre: Animated Comedy
Production: Tasia Films 
Ahimsa
Format: Feature Film
Genre: Horror, Comedy, Coming-of-Age
Production: Tasia Films
Ghost of the Gazillionaire
Format: Feature Film
Genre: Romantic Comedy, Supernatural
Production: TBA
The 39th Year
Format: 8 x 30 min
Genre: Romantic Comedy, Supernatural
Production: TBA
2023  –  Finding Love in Sisters
Format: TV Movie
Screenplay: D.F.W. Buckingham
Production: BTF Media, American Cinema International
2022  –  Plus One at an Amish Wedding
Format: TV Movie
Screenplay: D.F.W. Buckingham
Genre: Romance
Production: American Cinema International
2022  –  Squeaky Clean Mysteries: Hazardous Duty 
Format: TV Movie
Screenplay: D.F.W. Buckingham, Bryar Freed, Kat Olson
Genre: Mystery, Romance
Production: American Cinema International
2021  –  Finding Love in Mountain View
Format: TV Movie
Screenplay: D.F.W. Buckingham
Genre: Romance, Drama
Production: American Cinema International
2021  –  Rebuilding a Dream Christmas
Format: TV Movie
Screenplay: D.F.W. Buckingham, Amy Bircher, Robert Tiffe
Genre: Romance
Production: American Cinema International
2021  –  Farm to Fork to Love
Format: TV Movie
Screenplay: D.F.W. Buckingham
Genre: Romantic Comedy
Production: American Cinema International
2021  –  Finding Love in San Antonio
Format: TV Movie
Screenplay: D.F.W. Buckingham
Genre: Romance, Drama
Production: BTF Media, American Cinema International
2021  –  Vegetable Rising
Format: Short Film
Screenplay: D.F.W. Buckingham
Genre: Animation, Comedy
Production: Tasia Films
2020  –  Follow Your Heart
Format: TV Movie
Screenplay: D.F.W. Buckingham, Sandra L. Martin
Genre: Romance
Production: American Cinema International