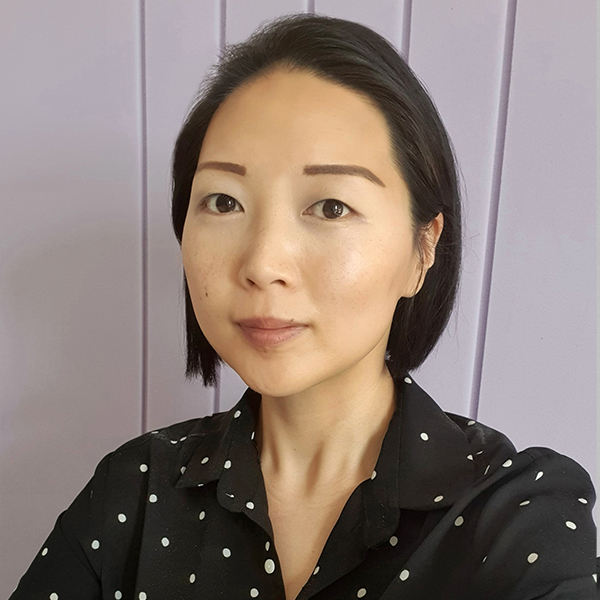 Su-Jin Song is a writer, director and creative producer. In her work Su-Jin is on the constant search for stories from life that inspire and give a special insight and at the same time address socially relevant topics. Diversity and inclusion in front of and behind the camera is important to her. Su-Jin enjoys working in teams, where great synergies can be created.
Su-Jin Song started in the film industry at a young age and worked for international co-productions between Germany, USA and South Korea. She lived and worked two years in Seoul, before she studied creative producing at the ifs international film school Cologne. She worked several years for Cologne based production companies and realized her own documentary series as writer and director on the side. Then decided to go to graduate school for Game Development & Research at the Cologne Game Lab to further study innovative and interactive media formats. Her award-winning films and series have been shown at international festivals worldwide.
Su-Jin writes and develops screenplays in German, English and Korean. She always looks for the best possible way to develop diverse and original stories for the right format – be it film, series, documentary or fiction.
Su-Jin Song: Screenwriter & Director
Contact:  +49 (0) 160 5955 631
marinus.viktor@papercuts-agency.com
Su-Jin Song: Screenwriter & Director
Contact:  +49 (0) 160 5955 631
marinus.viktor@papercuts-agency.com
In Development (Selection)
Insomnia
Format: Short Film, 15 min
Genre: Drama
Screenplay: Su-Jin Song
Director: Su-Jin Song
Production: autumn song production
Der Duft der Zeit (The Fragrance of Time)
Format: Feature Film, 90 min
Genre: Drama
Screenplay: Su-Jin Song
Director: Su-Jin Song
Production: OmaInge Film
Producer: Frauke Kolbmüller
Gemini
Format: Feature Film, Germany/ Hong Kong
Genre: Musical Drama
Screenplay: Jasmin Lu
Director: Su-Jin Song, Jasmin Lu
Creative Producer: Su-Jin Song
Production: TBD
Funding:
– MOIN Filmförderung Hamburg Schleswig-Holstein
Pizza Navidad
Format: Limited Series, 5×20 min
Genre: Dramedy
Screenplay: Su-Jin Song
Director: Su-Jin Song, Tali Barde, Levin Hübner
Production: TBD
Swan Song
Format: Transmedia Project, interactive game & series
Genre: Adventure Game, Animation
Screenplay: Su-Jin Song
Director: Su-Jin Song
Production: autumn song production
Game Studio: fantastic foe
Seoul Song
Format: Documentary, 20 min
Genre: Documentary Germany/South Korea
Screenplay: Su-Jin Song
Director: Su-Jin Song
Production: autumn song production
2019  –  Refugee Roads
Broadcaster: JOYN
Format: Documentary Series, 8×25 min
Genre: Documentary
Screenplay: Su-Jin Song
Directors: Timo Schmidt, Florian Volz
Production: autumn song production, Avalon Film
2017  –  Unserer Eomeoni (Our Mother)
Format: Documentary, 60 min
Genre: Documentary, Germany/South Korea
Screenplay: Su-Jin Song
Director: Su-Jin Song
Production: autumn song production
Festivals & Awards:
– "Beyond the Border and the Boundaries", Special Exhibition, Seoul Museum of History
2017  –  Schule, Schule – Die Zeit nach Berg Fidel
Format: Documentary, 90 min
Genre: Documentary, Germany
Screenplay: Hella Wenders
Director: Hella Wenders
Production: augenschein filmproduktion – Maximilian Leo, Jonas Katzenstein
Producer: Su-Jin-Song, Hella Wenders, Das Kleine Fernsehspiel ZDF
Festivals & Awards:
– Festival Max Ophüls Preis 2017
2014  –  Ein Märchen von einer unmöglichen Stelle im Universum (A fairytale with a completely imagined ending)
Broadcaster: WDR, arte
Format: Fiction, Short Film, 20 min
Genre: Drama
Screenplay: Markus Wulf, Dominik Hochwald
Director: Markus Wulf
Production: ifs internationale filmschule köln
Producer: Su-Jin Song
Festivals & Awards:
– Filmfest Dresden 2014, Nominated – German Short Film Prize 2014
2013  –  Doppelter Herzschlag (Two Heartbeats)
Format: Documentary, 60 min
Genre: Documentary, Germany
Screenplay: Su-Jin Song
Director: Su-Jin Song
Production: Goethe Institute Korea
Prodcuer: Su-Jin Song