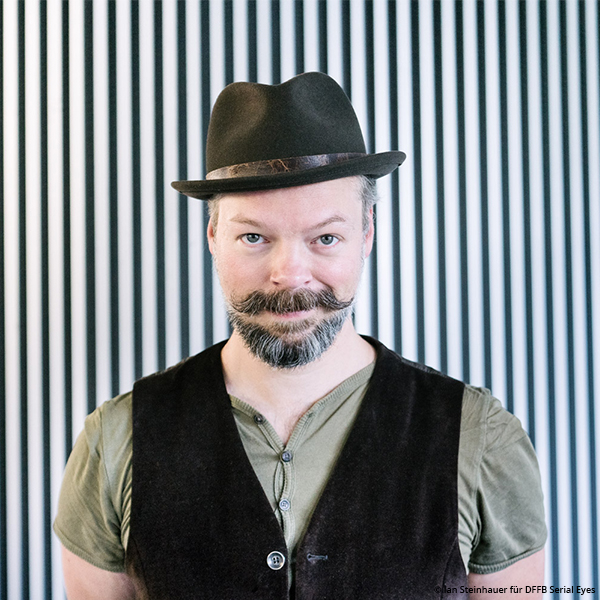 If there's one word to sum up Stephan's main interest it is this: ENTERTAINMENT!
Raised in the rough and lovely Ruhr Valley, the renegade intellectual studied Literature, Arts and Media Science under Aleida Assmann before he found his true calling.
A self-taught screenwriter, Stephan earned his spurs on the legendary sketch show SWITCH RELOADED. Comedy quickly became his forte, working on musical shows like LEIDER LUSTIG, satirical newscasts such as CCN: COMEDY CENTRAL NEWS or on the sitcom TRIPLE EX.
He also ventured into the strange realms of New Media, writing for YouTube shows like BOHEMIAN BROWSER BALLETT or TUBEHEADS, and created his own web-sitcom about online gaming, SUPERNOOBS.
Fascinated by the opportunities of interactive media, he also became a game writer. Stephan co-created the interactive sitcom GENIUS & EVIL, wrote two seasons of the Rom-Com game MY LOVE and co-wrote the psychological horror shooter PAST CURE.
In 2018 Stephan was picked for the "RACCONTI Digital Think Tank" where he developed the interactive horror series VIRAL and the Christmas show LAVINIA THE MOB DIVINER (with Lara DeSimone).
In 2019 he was chosen for the dffb's prestigious SERIAL EYES program where he was taught by legends like Maggie Murphy (MALCOLM IN THE MIDDLE) and Frank Spotnitz (THE MAN IN THE HIGH CASTLE). Here he created the fantasy cop show FREISTATT and co-created the sci-fi procedural MORGENSTADT (with Barry Thomson and Lukaz Sigmund).
Injecting a healthy dose of humour into even the bleakest subjects, Stephan is primarily focused on entertaining high concept material, be it in film, TV, games or audio.
Stephan Greitemeier: Screenwriter
Contact:  +49 (0) 160 5955 631
marinus.viktor@papercuts-agency.com
Stephan Greitemeier: Screenwriter
Contact:  +49 (0) 160 5955 631
marinus.viktor@papercuts-agency.com
In Development (Selection)
Willkommen in Freistatt!
Format: Series, 8 x 45 min
Genre: Supernatural Mystery
Screenplay: Stephan Greitemeier
Production: TBD
Les Loups – Wir fallen, um zu fliegen
Format: Series, 8 x 60 min
Genre: Action, Mystery, Drama
Screenplay: Stephan Greitemeier, Norbert Kneissl
Production: actionconcept
Der letzte Krieg
Format: Series, 6 x 60 min
Genre: Dystopian Science Fiction
Screenplay: Stephan Greitemeier
Production: Newfilm AG
Genossenschaft!
Format: Series, 6 x 30 Min
Genre: Sitcom
Screenplay: Stephan Greitemeier
Production: Tonbüro
Psycho Squad
Format: Series, 6 x 45 Min
Genre: Crime Thriller
Screenplay: Stephan Greitemeier
Production: TBD
Letzte Stunde
Format: Feature Film, 90 min
Genre: Horror
Screenplay: Stephan Greitemeier
Production: Schmerbeck Entertainment
Türkwülf
Format: Feature Film, 90 min
Genre: Horror, Comedy
Screenplay: Stephan Greitemeier
Production: TBD
2018  –  My Love
Format: Mobile App
Genre: Interactive RomCom
Screenplay: Stephan Greitemeier
Developer: Gamebook io
2016  –  PAST CURE
Format: PS 4, PC, XBOX
Genre: Psychological Action Shooter
Screenplay: Stephan Greitemeier
Developer: Phantom 8 Studios
2015  –  Genius & Evil
Format: PS 4, PC, XBOX
Genre: Interactive Sci Fi Sitcom
Screenplay: Stephan Greitemeier
Developer: Experimental Game
2017-19  –  CCN: Comedy Central News
Broadcaster: Viacom, Comedy Central
Format: Series, 8 x 30min
Genre: Satirical News Format
Screenplay: Stephan Greitemeier (et al.)
Production: Banijay Entertainment
2016-18  –  Leider Lustig
Broadcaster: ZDF, Kika
Format: Series, 6 x 30min
Genre: Musical Comedy
Screenplay: Stephan Greitemeier (et al.)
Production: Warner Bros. ITVP
2016  –  Triple Ex (Staffel 2)
Broadcaster: RTL
Format: Series, 6 x 30min
Genre: Sitcom
Screenplay: Stephan Greitemeier (et al.)
Production: UFA Fiction
2016  –  TubeHeads
Broadcaster: YouTube
Format: Web Series, 8 x 10min
Genre: Sketch Comedy
Screenplay: Stephan Greitemeier (et al.)
Production: Lumatik Filmproduktion
2013  –  Supernoobs: Unser Leben ist ein Spiel
Broadcaster: YouTube
Format: Web Series, 6 x 10min
Genre: Sitcom
Screenplay: Stephan Greitemeier
Production: Huge/Böhmann/Greitemeier
2007-12  –  Switch Reloaded
Broadcaster: ProSiebenSat1
Format: Web Series, Episoden à 30min
Genre: Sketch Comedy
Screenplay: Stephan Greitemeier (et al.)
Production: Eyeworks, Hurricane