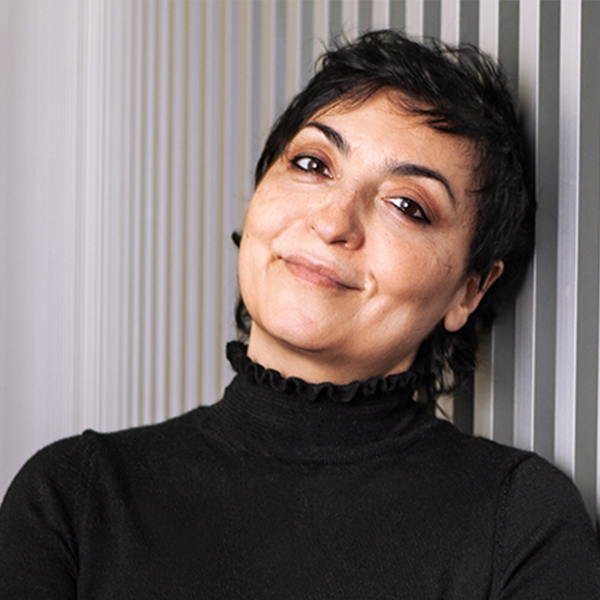 Mandi Riggi is a British/American London-based writer-director of Iranian descent. She is a member of the WGA, WGGB, BAFTA Connect and Directors UK. She was one of 12 selected into the 2020/21 showrunning program Serial Eyes in Berlin.
Mandi is the writer/creator of the television series CRIMSON CROWN to be directed by the cult Italian director Dario Argento. The series is currently in development with Media Muskateers and was selected into Rome's MIA market's Drama Pitch Series 2022.
Mandi's pilot script PEACE X PIECE was optioned by US network Showtime. Her screenplay MERCY based on her play was selected into EAVE, Toronto Film Festival's IFF programme, Film London's PFM and the MIA Co-Production Market in Rome. Her pilot ALEX IN WONDERLAND was one of 16 projects selected into MIA Market's Drama Pitch Series and is currently being developed to take out to production companies.
Mandi has also written and directed several plays, including LEVITICUS which played at the Edinburgh Fringe Festival, following sold-out performances Off Broadway at 59E59. Mandi has directed a number of short films, including SPADE, starring Jorge Garcia (Lost, Hawaii 5.0) which premiered at Katra Film Series, won the Katra Award and can be been seen on Shorts TV. Her short film Parallel Passage was nominated best short at Deauville Festival of American Cinema and travelled to 13 International film festivals including Hamptons, São Paulo, Huesca, SanDiego, and Los Angeles International Short Film Festival.
Mandi is in development with her feature film MERCY, with a star cast attached, and is developing a number of film and television ideas. She also wears a producers hat and was a participant of the 2021 Rotterdam Producers Labs with her feature film EVIN.
Mandi writes and develops scripts in English.
Mandi Riggi: Screenwriter & Director

Contact:  +49 (0) 160 5955 631
marinus.viktor@papercuts-agency.com
Mandi Riggi: Screenwriter & Director

Contact:  +49 (0) 160 5955 631
marinus.viktor@papercuts-agency.com
In Development (Selection)
Mercy
Format: Feature Film
Director: Mandi Riggi
Screenplay: Mandi Riggi
Production: Writers & Anglers
Festivals and Awards:
– Selected into Film London's PFM
– Rome's MIA Market
– Toronto's Film Festival's IFF
Five Storeys Underground
Format: Feature Film
Director: Mandi Riggi
Screenplay: Mandi Riggi
Production: TBA
Festivals and Awards:
– Selected into Film London's PFM
Alex in Wonderland
Format: TV Series, 6 episodes
Genre: Dark Comedy
Director: Mandi Riggi
Screenplay & Creator: Mandi Riggi
Production: TBA
Festivals and Awards:
– Rome's Mia Market
Piece x Piece
Broadcaster: Showtime Inc.
Format: 8 episodes
Genre: Drama
Director: Mandi Riggi
Screenplay: Mandi Riggi
Production: TBA
2021  –  Spade
Format: Short Film
Director: Mandi Riggi
Screenplay: Mandi Riggi
Production: PSYCHONAUT
Producer: Kevin Frizmaurice Comer
Festivals & Awards:
– Winner Katra Film Series Award
– Rome Independent Film Festival
2004  –  Parallel Passage
Format: Short Film
Director: Mandi Riggi
Screenplay: Mandi Riggi
Production: PSYCHONAUT
Producer: Kevin Fitzmaurice Comer
Festivals & Awards:
– Nominated Best Short Deauville
Festival of American Cinema
– Winner Silver Remi Award Worldfest Houston
– Hamptons Film Festival
– Huesca Film Festival
– São Paulo Film Festival
– San Diego Film Festival
– Malibu Film Festival
– Newport Beach Film Festival
– Cinequest Film Festival
– Kent Film festival
– Los Angeles International Short Film Festival
2019  –  Mercy
Playwright: Mandi Riggi
Theatre: Bread & Roses Theatre / Clapham Fringe, London
Festival and Awards:
– Finalist recipient at Stage Left Theatre / Downstage Left Residency
2018  –  Levticus
Playwright: Mandi Riggi
Theatre: Edinburgh Fringe, 59E59 New York
Featuring: Sawyer Spielberg, Raye Levine Spielberg, Brynne Kraynak, Eric Svendsen
2016  –  Piaf
Director: Mandi Riggi
Playwright: Mandi Riggi
Theatre:
– Marilyn Monroe Theatre
– Grammy Museum (Los Angeles)
2014  –  Heaven & Hell
Director: Mandi Riggi
Playwright: Mandi Riggi
Festivals and Awards:
– Midnight Madness Festival, New York
2013  –  A Baby's Arm Holding An Apple
Director: Mandi Riggi
Playwright: Mandi Riggi
Festival and Awards:
– Midnight Madness Festival, New York
– Finalist at ReOrient Festival / Golden Thread
2011  –  Degrees
Director: Mandi Riggi
Playwright: Michael David
Theatre: Inkwell Lab, Inkwell Theatre
Featuring: Samantha Sloyan, Mark McCullough Thomas, Matt Austin, Casey Ross