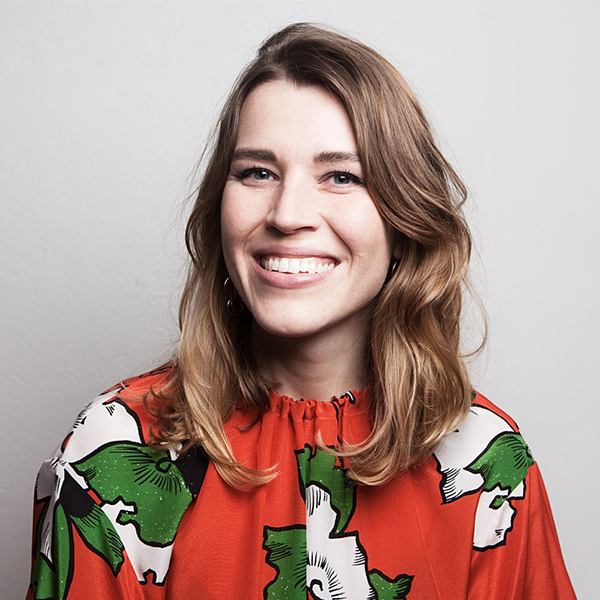 Ivy League-educated, bilingual allrounder based in Bavaria. Came to screenwriting after completing a business degree in Scotland, starting a PhD, working in theater and opening a bar in Berlin.
Looking to collaborate on series, movies and games. Interested in writing, creative producing opportunities and bagpipe lessons.
Open to all genres with a preference for the fast-paced, witty and historical. Prone to listing things if prompted.
Lu writes and develops screenplays in German and English.
Lu Traumann: Screenwriter

Contact:  +49 (0) 160 5955 631
marinus.viktor@papercuts-agency.com
Lu Traumann: Screenwriter

Contact:  +49 (0) 160 5955 631
marinus.viktor@papercuts-agency.com
In Development (Selection)
Es geschah am helllichten Tag
Format: Series, 8 x 50 min
Genre: Crime Drama
Head writer: Mikael Torfason
Writers' Room/Co-Creators: Lu Traumann, Pia Strietmann & Craig Young
Production: Red Pony/Saxonia Media Filmproduktion GmbH
Goethe – Die italienische Reise (AT)
Format: Feature, 120 min
Genre: Period Romantic Dramedy
Screenplay: Lu Traumann
Production: Filmallee GmbH
– FFF Stoffentwicklungsförderung 10/21
Für immer die Alpen
Format: Series, 6 x 45 min
Genre: Caper, Literary Adaptation
Screenplay: Lu Traumann
Production: Walker + Worm Film
Frühe Vögel
Format: Series, 8 x 30 min
Genre: Dramedy
Screenplay/Creators: Lu Traumann & Linus Liyas
Production: Lieblingsfilm GmbH
Mellowpark (AT)
Format: Series, 26 x 23 min
Genre: Children's
Head writer: Paul Schwarz
Writers' Room/Co-Creator: Lu Traumann
Production: UFA Fiction GmbH
The Mad King
Format: Series, 8 x 60 min
Genre: Period Drama, Young Adult
Screenplay/Creators: Lu Traumann & Melissa Byrne
Production: Hager Moss Film GmbH
Nordschleife (AT)
Format: Series, 8 x 50 min
Genre: Period Sports Drama
Screenplay/Creators: Lu Traumann & Markus Simon
Production: Red Pony/Saxonia Media Filmproduktion GmbH
Circle of Women (AT)
Format: Series, 6 x 60 min
Genre: Dramedy
Screenplay/Creator: Lu Traumann
Production: Hager Moss Film GmbH
Tiergarten (AT)
Format: Series, 8 x 40 min
Genre: Crime Dramedy, Period Fantasy
Creators: Neal Baer, Ricardo Pérez González
Writers' Room/Co-Creators: Lu Traumann & Yannik Carstensen
Production: NORDPOLARIS GmbH
Unterliga
Format: Series, 8 x 45 min
Genre: Dark Comedy
Screenplay: Lu Traumann & Markus Simon
Production: Constantin Television GmbH
COURAGE
Format: Series, 8 x 60 min
Genre: Historical Fantasy Drama
Head writer: Johannes Betz
Writers' Room/ Co-Creators: Lu Traumann, Markus Simon, Konstantin A. Bürger & Anja Wiesen
Production: TBA, developed at Drehbuchwerkstatt München 2019/2020
Awards:
– Tankred-Dorst-Preis
Die Spieler
Format: Series, 8 x 45 min
Genre: Historical Drama
Screenplay: Lu Traumann & Markus Simon
Production: MadeFor Film GmbH
Low Profile
Format: Series, 8 x 30 min
Genre: Gangster Dramedy
Screenplay: Lu Traumann & Markus Simon
Production: Odeon Fiction GmbH
Marketing Girls
Format: Series, 12×30 min
Genre: Workplace Comedy
Screenplay: Lu Traumann & Agnė Šerpytytė
Production: Saxonia Media Filmproduktionsgesellschaft mbH
Festivals & Awards:
– L.A. Screenplay Awards – Semi-finalist
– Finalist at NEM Zagreb 2020