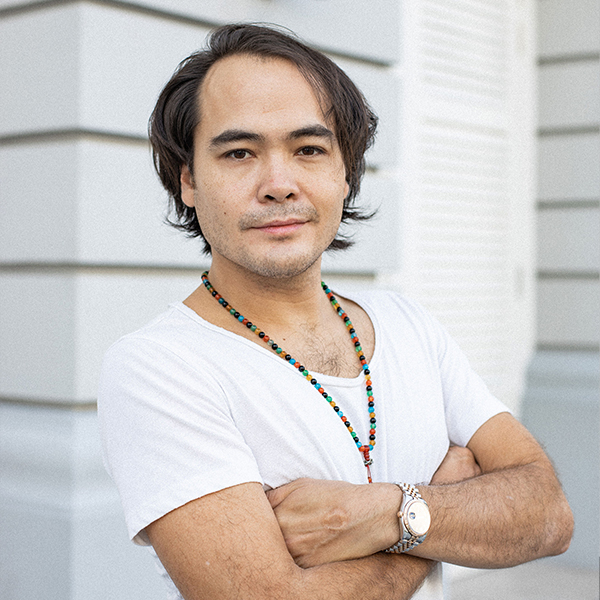 Daniel Y-Li Grove is a Singaporean-Australian writer-director-producer. He graduated from the University of Southern California's MFA program with the Panavision Young Filmmaker Award for his thesis "A Better Place Than This", about the hangman of Changi prison and his affair with a woman on death row, which became the flagship short on PBS.
Prior to that Daniel wrote the student Oscar finalist "Blackbird" about Mexican-American tweens coming of age in South Central LA. He formed the company Black Light District which produced the Sundance darling "A Girl Walks Home Alone At Night", and followed up with his feature directorial debut "The Persian Connection", which The Financial Times called "the most striking of films, which spiked the tonic of open-mindedness with firewater."
Daniel subsequently optioned the series to FX and began pre-production on the feature version of "A Better Place Than This" starring Andrea Riseborough when the pandemic hit. The project took part in the London Film Finance Market in 2019 and Zurich Film Festival Talents 2018. He is currently adapting the best-selling prison memoir "The Sunday Smuggler" and producing the female heist thriller "Be Not Afraid" starring Jena Malone, Kathleen Turner and William Hurt (shooting end of 2021). Prior to film Daniel was a print journalist in Singapore, Australia and China and has been published in the Sydney Morning Herald, Dazed & Confused, Frankie, Arena, JUICE and VICE. He majored in philosophy, film studies and media & communications for his BA at the University of Sydney.
Daniel Y-Li Grove: Screenwriter & Director

Contact:  +49 (0) 160 5955 631
marinus.viktor@papercuts-agency.com
Daniel Y-Li Grove: Screenwriter & Director

Contact:  +49 (0) 160 5955 631
marinus.viktor@papercuts-agency.com
In Development (Selection)
The Procreators
Format: Feature, 90 min
Genre: Drama, Grounded Sci-Fi
Screenplay: Daniel Y-Li Grove
Production: Kiss and Tale Productions
Fire On Holy Mountain
Format: Series, 8x60mins
Genre: Murder Mystery
Screenplay: Daniel Y-Li Grove
Production: TBD
Transhuman
Format: Series, 11x60mins
Genre: Sci-Fi, Techno Thriller
Screenplay: Daniel Y-Li Grove
Production: TBD
A Better Place Than This
Format: Feature, 100 mins
Genre: Drama
Screenplay: Daniel Y-Li Grove
Production: TBD
From The Stars
Format: Feature, 100 mins
Genre: Sci-Fi, Action-Adventure
Screenplay: Daniel Y-Li Grove
Production: TBD
22 Minutes
Format: Limited Series, 8x60mins
Genre: Historical Drama, Spy Thriller
Screenplay: Daniel Y-Li Grove
Production: TBD
2021  –  Spaniards Can't Play Ping Pong
Format: Short Film, 7 min
Genre: Sports Comedy
Screenplay: Daniel Y-Li Grove
Director: Daniel Y-Li Grove
Production: Neuenburger Productions
2021  –  A Fresh Start
Format: Short Film, 7 min
Genre: Satire, Thriller
Screenplay: Daniel Y-Li Grove & Daniel Hanna
Director: Daniel Y-Li Grove & Daniel Hanna
Production: Highland Productions
2018  –  The Persian Connection
Broadcaster: Samuel Goldwyn, MGM, Amazon, Apple
Format: Feature, 103 min
Genre: Crime, Thriller
Screenplay: Daniel Y-Li Grove
Director: Daniel Y-Li Grove
Production: Black Light District
Festivals & Awards:
– World Premiere Tribeca
– American Film Festival
– Film Noir Festival
– Noor Film Festival
– Champs Elysees
– New Films New Directors
– Winner Best Film and Best Actor: DTLA Film Festival
– Twin Cities Film Festival
2013  –  A Better Place Than This
Broadcaster: PBS
Format: Short Film, 26 min
Genre: Drama
Screenplay: Daniel Y-Li Grove
Director: Daniel Y-Li Grove
Production: USC, Sony Pictures Entertainment
Festivals & Awards:
– Hollyshorts
– Chinese Short Media Festival
– Winner Best Short Rhode Island Film Festival
– Panavision Young Filmmaker Award
– Palm Springs Short Film Festival
– Cleveland International Film Festival
– Rhode Island International Film Festival
– Sedona Film Festival
– Napa Valley Film Festival
– Key West Film Festival
– Honolulu Film Festival