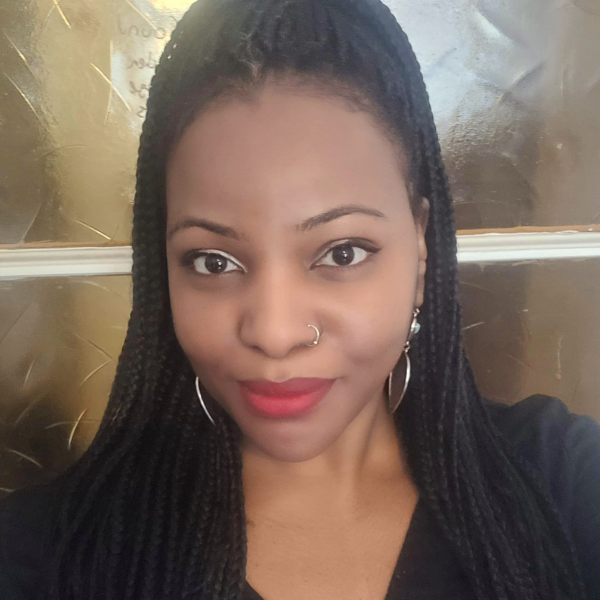 Candice is a Nigerian-British screenwriter and filmmaker based between Berlin and London.
Her shorts have screened at international festivals around the world including the BFI London Film Festival, Aesthetica Film festival, Roving Eye, Rhode Island International Film Festival, Atlanta Film festival, Encounters, and many others. Her work has been distributed on a range of platforms including the BFI Iplayer and Blavity TV across Apple and Roku. She also directed 2nd unit across 6 episodes of the Steve Knight penned BBC series SAS: ROGUE HEROES.
Candice is currently writing in the feature film space. She is in development with Erebus pictures on a period feature, as well as developing two other feature projects including a coming-of-age, fantasy drama I AM MESSIAH and a psychological-horror ANOTHER I (ranked in the top 15% of nearly 6000 submissions to the Academy Nicholl Fellowships 2022).
Candice is the founder of Genesis Child Productions, a U.K based film company with a focus on powerful stories by Women of African descent and the diaspora. She is a member of BAFTA Connect and Directors UK.
Candice writes and develops screenplays in English.
Candice Onyeama: Screenwriter & Director
Contact:  +49 (0) 160 5955 631
marinus.viktor@papercuts-agency.com
Candice Onyeama: Screenwriter & Director
Contact:  +49 (0) 160 5955 631
marinus.viktor@papercuts-agency.com
In Development (Selection)
Another I
Format: Feature
Genre: Psychological Horror
Director: Candice Onyeama
Screenplay: Candice Onyeama
Production: TBA
Festivals and Awards:
– Ranked top 15% of 6000 submissions to the Nicholls Academy screenwriting Fellowship 2022

VAMPIRES
Format: Feature
Genre: Period Thriller
Director: Candice Onyeama
Screenplay: Candice Onyeama
Production : Erebus Pictures

I AM MESSIAH
Format: Feature
Genre: Fantasy drama
Director: Candice Onyeama
Screenplay: Candice Onyeama
Production: TBA

RIDERS
Format: TV
Genre: Action Drama
Director: Candice Onyeama
Screenplay: Candice Onyeama
2021  –  SAS ROGUE HEROES – Series 1, 6 episodes (2 nd Unit Director)
Format: TV series
Director: Tom Shankland
Screenplay: Steve Knight
Production: BBC/Kudos
Producer: Stephen Smallwood
2020  –  BORN AGAIN
Format: Short Film
Director: Candice Onyeama
Screenplay: Candice Onyeama
Production: BFI Network and Film London, Genesis Child Productions, 2Hot Films
Producer: Nicola Gregory
Festivals &Awards:
– Winner of Shooting People's New Shoots award
– Honourable mention for Best Narrative Short at Atlanta Film Festival
– Official selection: Aesthetica, Norwich, Bolton, SOUL, Martha's Vineyard International Film Festival, Film Africa, Brazilian African Film Festival, New York African Film festival, Roving Eye Rhode Island International Film Festival
– BFI London Film Festival (Out of competition)
– Distributed in the US on Blavity TV across Apple and ROKU
– Distributed in the UK on Framelight TV
2020  –  UNCLE MIKE
Format: Short Film
Director: Neil Anwhan
Screenplay: Candice Onyeama
Production: North Edge Films and Orchid Cancer Charity
Producer: Ali Orhan
Festivals & Awards:
– Winner of the Best Story award at Thundr short Film Showcase 2020
– Official Selection for Baltimore International Black Film Festival 2020
– Official Selection for UK Monthly Film Festival 2021
– Finalist at Awareness Festival 2020
– Honours List at Women X Festival 2020
2017  –  ONCE AN OLD LADY SAT ON MY CHEST
Format: Short Film
Director: Candice Onyeama
Screenplay: Candice Onyeama
Production: Genesis Child Productions and P for Production
Producer: Candice Onyeama and Nicola Gregory
Festivals & Awards:
– Baobab nominee at Film Africa 2018
– Best screenplay nominee at Underwire Film Festival
– Audience award winner at Black Culture Film Festival
– Official festival selection: Women of the lens, SOUL, Film Africa, East End film festival, Afrykamera, WADFF
– Distributed on BFI Player
– Part of TAPE collective's 'BUT WHERE ARE YOU REALLY FROM' UK film series tour
2016  –  HUSH
Format: Short Film
Director: Alex j Campbell
Screenplay: Candice Onyeama
Production: Genesis Child Productions and P for Production
Producer: Candice Onyeama
Festivals & Awards:
– Winner of Best Screenplay award at academy award qualifying film festival Reel Sisters of the diaspora, US
– Winner of the Best Short Film award at BAFTA and BIFA qualifying British Urban Film Festival
– Official festival selection: NFFTY, SOUL, WADFF, Encounters, Underwire
– Featured in AfroPunk Magazine
– Distributed by UK Fully Focused