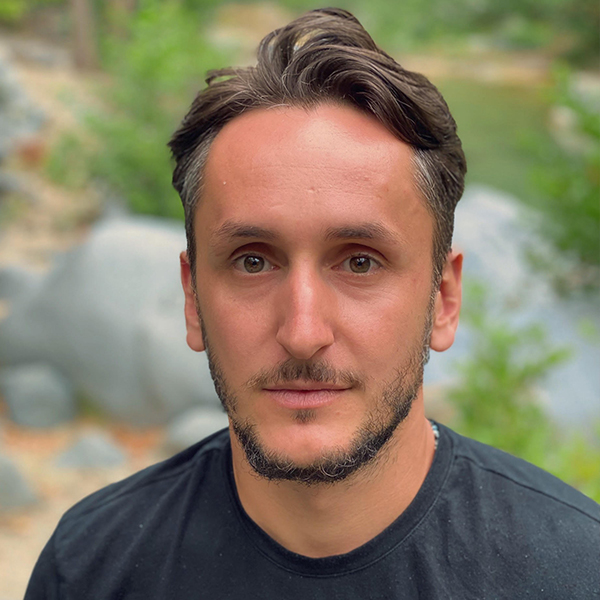 I grew up in the Macedonian countryside, in the heart of the wild and rugged Balkans. In my "middle-of-nowhere" hometown in an even more "middle-of-nowhere" country, I spent my childhood coming up with stories set in faraway galaxies, parallel dimensions or alternate timelines.
And back then, my wish to be a writer and director felt just as imaginary as those first screenplays. Obviously, I was the small town weirdo, which wasn't easy, but growing up in the picturesque countryside was also romantic. My background has greatly shaped my style as an author today – elevated genre concepts about the misfits of society and the grandeur of nature.
My childhood memories were the inspiration for my latest short film "Snake", which screened at major festivals around the world, winning fourteen awards. I am currently in pre-production of my first feature as a writer/director, a romantic psychological thriller "The Sweet Bitterness of Ripe Pomegranates"  which was developed at the Torino Film Lab and financed by Macedonian and Bulgarian national funds.
I am also currently developing a comedy/musical TV series, based on my cult short film "Shhh… Sing to me!", which is set to go into production in the spring of 2023. And finally, thanks to my participation in the Serial Eyes program in Berlin, I had the opportunity to work on my most daring genre project to date, a satirical sci-fi horror series, "To Die of Happiness".
Andrey Volkashin: Screenwriter & Director

Contact:  +49 (0) 160 5955 631
marinus.viktor@papercuts-agency.com
Andrey Volkashin: Screenwriter & Director

Contact:  +49 (0) 160 5955 631
marinus.viktor@papercuts-agency.com
In Development (Selection)
To Die of Happiness
Format: Series
Genre: Sci-fi/Horror
Screenplay: Andrey Volkashin
Production: Odeon Fiction
The Adventures of a Pop – Folk Princess
Format: Series
Genre: Comedy/Crime/Musical
Created by: Andrey Volkashin, Peter Vulchev
Production: OXO
The Inverted Tower
Format: Anthology Series, 8 x 50 min
Genre: Horror/Dark Fantasy
Created by: Andrey Volkashin
Production: TBD
2022  –  The Sweet Bitterness of Ripe Pomegranates
Format: Feature, 90 min
Genre: Romance/Thriller
Screenplay: Andrey Volkashin
Director: Andrey Volkashin
Production: Veda Film, Screening Emotions
Festivals & Awards:
– 2019| Torino Film Lab – Scriptlab
– 2018| Torino Film Lab Extended – Script Development
2020  –  Snake
Format: Short, 20 min
Genre: Drama/Comedy
Screenplay: Andrey Volkashin
Director: Andrey Volkashin
Production: Veda Film Production
Festivals & Awards:
– 36 Lovers Film Festival – Winner: Best Short Film
– 12 Kashish Mumbai International Queer
Film Festival – Winner: Best International Narrative Short
– 18 Film Front ISFF – Winner: Best Film
– 12 Merlinka IQFF – Winner Era Award Best Film
– 35 Brest European Short Film Festival – Official Competition
– 14 Iris Prize LGBT + Film Festival – Iris Prize 2020 Finalists
– 26 International Film Festival Schlingel – Official Selection
– 23 Outshine Film Festival Miami – Official Selection
– 21 Mezipatra QFF – International Short Competition
– 18 Tirana International Film Festival – Balkan Competition
– 25 Cheries – Cheris Festival Du Film LGBTQ de Paris –
Short Film Competition
– 15 TLV Fest – Short Film Competition
– 18 Festival International Signos Da Noite – Official Selection
2018  –  Ficus
Format: Short, 17 min
Genre: Drama
Screenplay: Andrey Volkashin
Director: Andrey Volkashin
Production: Sarajevo City of Film
Festivals & Awards:
– 24 Sarajevo Film Festival – Sarajevo City of Film
– 25 Internatinal Short Film Festival in Drama
– International Competition, 13 Iris Prize LGBT + Film Festival
Iris Prize 2019 Finalists
– 33 IMAGE + NATION
– LGBTQ FF – Official Selection
– 27 Pride Pictures QFF – Ofiicial Selection
– 24 LesGaiCineMad Madrid International
LGBT+ Film Destival International Short Film Competition
– 14 Jahorina Film Festival – Winner: "Golden Maple" Best Regional Short Film
– International Queer Film Festival Merlinka – Winner: Artistic Bravery Award
– 21 Music and Cinema Festival International du Film d'Aubagne –
– 23 Pink Apple Film Festival – Official Competition
– 11 Kashish Mumbai International Queer Film Festival – Official Selection
2017  –  Koliva
Format: Short, 22 min
Genre: Drama
Screenplay: Andrey Volkashin
Director: Andrey Volkashin
Production: Veda Film
Festivals & Awards:
– 46 Huesca International Film Festival –
International Short Film Official Selection
– 15 In The Palace ISFF – National Best Short Competition
– 39 Manaki Brothers ICFF – Makpoint
– Fekk Ljublana Short Film Festival – Ex Yu Competition Program
– 10 Eastern Neighbours FF- ENFF Discoveries
– Tonneins IFF France – Winner: Best Short Film
– 16 ISFF Film Front Serbia/ Region Competition
– 16 Tirana International Film Festival – Balkan Competition
– 35 Golden Rose Bulgarian Feature Film Festival –
In Competition Best Co-Production
– Short of the Year – Special Jury Mention