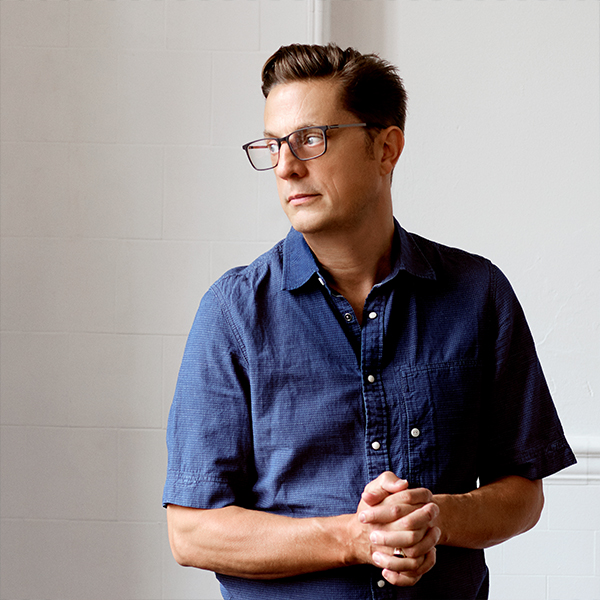 Alexander Osman, MA, is a multi-award-winning writer and director on a mission to explore the darker side of the human psyche through moving, character-driven narratives that challenge societal and cultural stereotypes with the ultimate goal of revealing the innate light in us all.
Alexander's creative career has followed a polymathic journey beginning with success as a musician and audio engineer/producer, working with the likes of Annie Lennox, Mica Paris and Malcolm McLaren, to working as a communication design consultant and filmmaker for global brands such as Visit Britain, Jaguar Land Rover, Emirates and BBC.
Alexander now unites his wealth of experience and craft to focus on writing and directing mixed-genre short, series and feature-length narratives. With a keen eye for detail and a proven method for helping actors achieve compelling and emotive performances, his directing style displays a distinct command of the language of visual storytelling combined with an instinctive eye for the aesthetic.
Recent highlights include The Knowledge, which premiered at BIFFF in 2019 and has since screened at over 50 global festivals, receiving 19 nominations and 8 awards to date. Beneath the Surface, which premiered at Ireland's prestigious Kinsale and screened in Berlin and at Edinburgh's fringe. And This Little Place in Gospel Oak, a docudrama that gained wide festival recognition, including premiering at the London Independent Film Festival and Open City Docs.
Alexander Osman: Screenwriter & Director

Contact:  +49 (0) 160 5955 631
marinus.viktor@papercuts-agency.com
Alexander Osman: Screenwriter & Director

Contact:  +49 (0) 160 5955 631
marinus.viktor@papercuts-agency.com
In Development (Selection)
Black Money
Format: Short Film & Feature Script, 108 min
Genre: Drama
Writer: Alexander Osman
Director: Alexander Osman
Production: Gatton Films
The Knowledge
Format: Feature Film, 108 min
Genre: Thriller/Suspense
Screenplay: Alexander Osman
Production: TBD
Festivals & Awards:
– Eight nominations and wins, including Best Thriller, Bridge Fest 2021
– Semi-finalist, ISA Horror & Thriller Genre Busting Screenplay 2021
– Semi-finalist, Stage 32 Feature Screenplay Contest 2020
Thicker Than Blood
Format: Feature Film, 100 min
Genre: Thriller/Suspense
Screenplay: Alexander Osman
A Drop in the Ocean
Format: Series, 8 x 60 mins
Genre: Drama
Screenplay: Alexander Osman
Sunset Strip
Format: Short, 20 min
Genre: Comedy
Screenplay: Alexander Osman
Production: TBD
Festivals & Awards:
– Selected for 17 international festivals,
with 10 wins to date, including best international
screenplay at Austin Comedy Film Festival
Once More With Feeling
Format: Series, 8x 50 min
Genre: Drama/ Dark Comedy
Screenplay: Alexander Osman
Production: TBD
2021  –  Just Us
Format: Pilot – Web series
Genre: Dark Comedy
Director: Alexander Osman
Screenplay: Jade Asha & Sammy Attalah
Production: London Independent Productions
2020  –  Sitting Pretty
Format: Short, 15 min
Genre: Thriller
Director: Alexander Osman
Screenplay: Alexander Osman
Production: FilmHouze Productions
Festivals & Awards:
– Finalist Kosice International Film Festival
– Lift-off x 11 including, London, LA, New York, Tokyo, Sydney, Paris and Amsterdam
2020  –  Skits N Ting
Broadcaster: YouTube
Format: Six part – Web series
Genre: Comedy
Director: Alexander Osman
Screenplay: Marissa Joseph
Production: Boxtilt Productions
2020  –  In Character
Format: Short, 12 min
Genre: Drama
Director: Alexander Osman
Screenplay: Max Khan
Production: Orange Lady Production
2019  –  The Knowledge
Format: Short, 13 min
Genre: Thriller
Director: Alexander Osman
Screenplay: Alexander Osman
Production: Yard Nine
Festivals & Awards:
Winner:
– London Short Series Festival
– Oregon Short Film Festival
– Creepy Tree Film Festival
– Hollywood Blood Horror
– Global Shorts 2020
– Vancouver Bridge Festival
Nominations/Finalist:
– Austin After Dark Film Festival
– Las Vegas Film Festival
– Portland Comedy Film Festival
– Kosice International Film Festival
– London Short Series Festival x 3
– Lone Wolf International Film Festival x 3
– Lisbon Film Rendezvous,
– Frame Stories Flim Awards
Notable others:
– BIFFF (Brussels International Fantastic Film Festival)
– Horror Hounds Film Festival
– Morbido Fim Fest (Mexico)
– Apocalypse Later International Film Festival
– Spooky Empire's International Horror Film Festival
– Lift-Off LA Film Festival, New York, Toronto, Tokyo and Amsterdam
2017  –  Come Home Soon
Format: Short, 12 min
Genre: Drama
Director: Alexander Osman
Screenplay: Louise Johnson
Production: KickAss Productions
Festivals & Awards:
– Hellfire Film Festival 2016
– 4th Festival Internazionale del Cinema Povero, 2017
– Cardiff Mini Film Festival, 2017
– Accountability Film Festival, 2017
– Nepal IFF 2017, (Semi-Finalist)
– Short Cine Fest, August 2018
2016  –  Beneath The Surface
Format: Short, 7 min
Genre: Drama
Director: Alexander Osman
Screenplay: Alexander Osman
Production: Yard Nine
Festivals & Awards:
– Kinsale Film Festival (Shark Awards)
– International Film Festival Berlin
– Nightpiece Edinburgh Film Festival
– Making Waves Film Festival Portsmouth England
– Short of the Year, Promofest
– Short Stop International Film Festival
– The Online Film Festival
2016  –  The Need For Vintage Speed
Format: Documentary
Director: Alexander Osman
Screenplay: Alexander Osman
Production: Chocolate Films
Festivals & Awards:
– 1000 Londoners Film Competition by Chocolate Films
– St. Petersburg International Film Festival
2015  –  The Little Place In Gospel Oak
Format: Documentary
Director: Alexander Osman
Screenplay: Alexander Osman
Production: Drift Velocity
Festivals & Awards:
– Open City Docs
– London Independent Film Festival
– Edinburgh Short Film Festival
– Edinburgh Nightpiece Film Festival